Take the Moments of Joy Where You Find Them
An invitation to this Sunday's Illich Conversation with David Cayley
This Sunday night at 8pm UK time, I'll be in conversation with Ivan Illich's friend and collaborator David Cayley. Paid subscribers are invited to join us live on Zoom and will find the details at the bottom of this post. If you haven't become a paid subscriber yet, then here's the button to click:
Read on to learn what Illich taught me about how and when to care.
I met this sight on my way home this morning, after leaving Alfie at school. Walking the back way, past the mission church, the sun on the trees was glorious. Our little town has its share of inglorious mid-20th century Swedish concrete, but mixed in with it are pockets like this. And as I stopped to take a picture, the thought came: take the moments of joy where you find them.
When I moved to Sweden, the climate scared me. For once, I'm not talking about The Climate – the capitalised entity around which so much of our collective fear crystallises – I mean it in the local, specific sense. How to cope with the darkness of winter, living at sixty degrees north? It didn't help that I arrived in early April to sleet and dead grass and no leaves on the trees and gravel everywhere, and people said, 'Ah, you've moved here at the best time!' I had to come at April from the other side, having lived the darkness and the return of the light, before I got what they were saying. Meanwhile, as the end of my first summer approached, the trepidation grew – and then, something unexpected happened. I was ambushed by autumn, the slow-motion firework display of the colouring trees.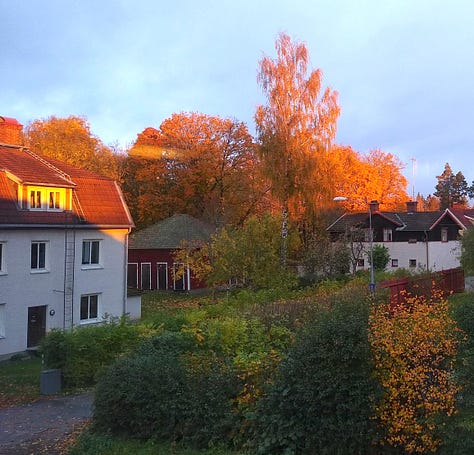 Take the moments of joy where you find them. Don't let your sense of privilege or your awareness of the coexisting horrors cancel them out. It doesn't work like that.
In David Cayley's first book of conversations with Ivan Illich, there's a story that could sound outrageous. This must be sometime in the 1980s. A student comes to Illich, troubled by something he has said. 'Don't you care about the starving children in Africa?' the student demands.
And Illich – well, he says no:
My immediate reaction is, I will do everything I can to eliminate from my heart any sense of care for them. I want to experience horror. I want to really taste this reality about which you report to me. I do not want to escape my sense of helplessness and fall into a pretence that I care and that I do or have done all that is possible of me.
His point is that we have fallen into a way of speaking in which care is a feeling. A feeling that gives us a sense of virtue. (And how much further down this hole have we fallen in the age of social media?)
In his refusal to sentimentalise care, Illich is speaking for an older and truer meaning of the word, in which 'care' involves action, it has costs and consequences. Care is what love looks like in practice – and, for Illich, the canonical instance of this is the story of the Good Samaritan, which he retells in terms which remain bitterly potent this very week:
I want to live with the inescapable horror of these children, of these persons, in my heart and know that I cannot actively, really, love them. Because to love them — at least the way I am built, after having read the story of the Samaritan — means to leave aside everything which I'm doing at this moment and pick up that person. It means taking whatever I have with me, in my little satchel of golden denarii, and bringing the guy to an inn — which then meant a brothel — as that Palestinian did to the Jew who had fallen into the hands of robbers, and saying, "Please take care of this guy. When I return I hope I'll have made a little bit more money and I'll pay you for any extra expenditures."

I have absolutely no intention, if I'm sincere, of leaving this writing desk, these index cards, these files, or selling that little antique Mexican sculpture which I bought for a dollar but which might be worth $500 if I find the right antiquarian in New York, and taking that money to go to the Sahel and take that child in my arms. I have no intention, because I consider it impossible. Why pretend that I care? Thinking that I care, first, impedes me from remembering what love would be; second, trains me not to be in that sense loving with the person who is waiting outside this door; and, third, stops me from taking the next week off and going and chaining myself to the door of some industry in New York which has a part in the ecological disaster in the Sahel.
Guard your capacity for care. Don't let it be turned into a feeling and spread meaninglessly thin.
Guard your capacity for joy. Don't let it be stolen from you.
Today, in the fallen beauty of a northern autumn – aware of how sheltered I am, for now, from all the hell with which my life is nonetheless connected – I'm thinking that these might be two sides of the same work.
The Ship and the Iceberg
This Sunday, I will be in conversation with David Cayley, to whom Illich told that story. I've read David's words and listened to his radio programmes for nearly twenty years, since I first discovered Illich, so it's a strange feeling to be meeting at last, even through the limitations of an encounter over Zoom.
In our preparations for the event, Marcus Rempel – who, together with
, has arranged this fortnightly series of Illich Conversations – offered me the image of the Titanic approaching the iceberg, and the kinds of task that are called for in such a situation:
When the ship went down, there were not enough lifeboats on this "unsinkable" titan of progress. The band, which had instructions to keep playing party music until the bitter end, switched over to playing hymns, famously, Nearer My God to Thee. 

There is an urgent need for some of us to keep banging on the doors of the captain's brig, to plead for a correction in course. But what I heard in At Work in the Ruins was the voice of someone who turned from the conversation "the grown-ups" are having about course corrections for the big ship, and who is giving some encouragement to the humbler work of improving the smaller but vitally important lifeboats, and perhaps, in your most recent series Into the Deep, considering what hymnals might offer us some solace as the big ship goes down. 

These seem to be three critical kinds of work: banging on the captain's door, working on the lifeboats and practicing the hymns we will need when the party music is all played out. 

What encouragement and what warnings do you have for each of these three? 
So that may give you some idea of where our conversation is headed, though no doubt we will speak about other things and there will be time for questions and responses.
The Illich Conversations
The first session takes place this Sunday, 15 October 2023, at 8pm UK time. That's 3pm on the East Coast, noon on the West Coast – or nine in the evening for those of us in Sweden.
There will be three further sessions, taking place fortnightly at the same time. On Sunday 29th October, I'll be in conversation with Sam Ewell, author of Faith Seeking Conviviality. Then Sam will be in conversation with David Cayley on 12th November, and finally, on 26th November, there will be an open discussion to close the series.
These events are being offered by invitation – and all paid subscribers to my Substack (or David's) are invited, so please find the details for the Zoom call below the paywall on this post.
And if you'd like to join, but the price of a subscription would be an obstacle, just send me an email.
DH
Keep reading with a 7-day free trial
Subscribe to Writing Home to keep reading this post and get 7 days of free access to the full post archives.